We're on our way!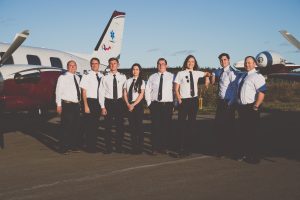 Atlantic Air Charters have been serving the East Coast for 40 years.
Atlantic Charters has been providing Canada with a reputable charter service since 1982.
We are offering domestic and international aircraft charters, specifically executive passenger, medevac and cargo services. Our company is serving the North and Eastern seaboard 24 hours a day 7 days a week, with charter service to nearly any airport.
We currently operate with a quick response time after you have selected us for a flight; our normal time to get the aircraft underway after you give us the green light is approximately 40 minutes. Since our friendly staff is always available you can be sure when that emergency comes up at 2:30 am we'll be on our way.
Our fleet of Piper Cheyenne III, Piper Cheyenne IIXL and two Navajo's makes us extremely versatile, answering any request. Our Cheyenne III is a one-of-a-kind aircraft providing comfortable travel for both short and long haul flights to destinations as far as 2000 miles at a time. The Navajos are also perfect for short and long distance flights.
Here are some examples of the many airports we fly in and out:
Baie Cameau

Bangor

Bathurst

Blanc-Sablon

Bon Adventure

Boston

Charlottetown

Deer Lake

Digby

Fogo

Fort Frances

Fredericton

Gander

Gaspe

Goose Bay

Grand Manan

Halifax

Havre St-Pierre

Kuujjuaq

London

 Îles de la Madeleine

Matane

Miramichi

Moncton

Mont Joli

Montreal

New York

Natashquan

Ottawa

Pokemouche

Port Hawkesbury

Portland

Quebec City

Saglek

Saint John

Schefferville

Sept-Iles

St. Anthony

St-Augustin

Stephenville

St. Stephen

St-Pierre

St. John's

Sudbury

Sydney

Val-D'Or

Thunder Bay

Toronto

Wabush

Winterland

Yarmouth
Our experienced staff are committed to providing our passengers with a comfortable and safe flight.
Contact us today for more information, or visit Our Planes section for a detailed list on the aircrafts that we fly.